Do you know what PPC(Pay Per Click) is? Are you aware of the advantages and disadvantages of PPC? If not, this article is the only resource that you will need. This writing will enrich your knowledge about PPC with information about the advantages and disadvantages of PPC.
Marketing is the driving force of any business. Nowadays, companies perform their marketing campaigns primarily online. It would be best if you strengthened your strategies in online-based marketing more than offline marketing. Because here, you will be connected virtually with your customer.
In that case, PPC is one of the best options for your company's growth. It helps to reach your targeted customer effectively. But, you need to have a clear idea of the advantages and disadvantages of PPC.
What is PPC?
PPC is an abbreviation for Pay-Per-Click. It is a digital advertising model where you have to pay only when your ads are clicked by a visitor. PPC is also a well-known advertising strategy that can display ads. PPC can be a cost-effective technique to attract potential customers to your website.
You can display your ads among the search results on various search engines by this method. If you are looking for a form of paid digital marketing, Pay-per-click is the best way.
Now, you have a basic understanding of PPC. Let's take a look at the advantages and disadvantages of PPC-
Advantages of PPC
PPC has both possibilities and risks. You can determine the advantages and disadvantages of PPC through our article. First, let's talk about the most important advantages of PPC.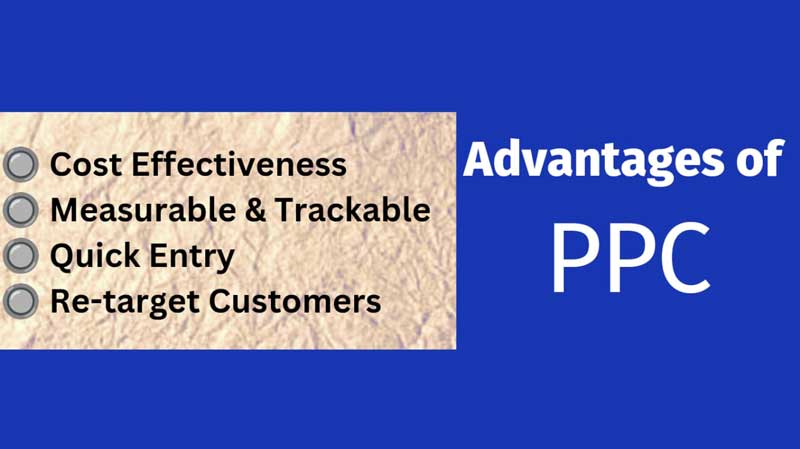 1. Cost Effectiveness
In PPC there is no minimum cost so you have complete financial control. You can choose how much you want to pay for each ad click. PPC is effective in maximizing your return on ads. Also, you need to pay only when someone clicks on your ads.
One of the most attractive things in PPC is that it doesn't require much money. It is a cost-saving method where you will have a friendly budget. Anyone can make ads on their website and advertise their website through PPC.
2. Measurable & Trackable
When you send your PPC traffic to Google Analytics, you can track it. You can see your spending and end goals. No Billboard or magazine can contribute to sales like that. With Google ads, you can easily measure and track your payment, conversation, and PPC movement. The ads will display in a manageable way in front of your potential customers. That's why It is one of the most effective ways that can increase your page impression.
3. Quick Entry
Imagine you are an online marketer. In this digital era, you are getting behind other competitors. it's often like a big contrast for starting up SEO efforts. Which usually takes a lot of time. PPC can give you a quick entry to digital marketing. It will boost your ads to reach customers outside of your brand. In PPC, you aren't limited to your existing followers or customer lists. Because PPC will create a wide net to find new prospects and customers for you.
4. Re-target Customers
Many people visit your website and some of them are really interested in your offers or ads. But unfortunately, they can't complete the purchase. The viewers may think the product isn't suitable for them or the price is very high. Here, you can connect with those customers through PPC.
With just more encouragement, they could turn into a customer. In this regard, PPC is the best choice for your online marketing. It is a profitable option for your online business.
Disadvantages of PPC
We have told you, you should be aware of the advantages and disadvantages of PPC before starting a campaign. But, Disadvantages aren't like curses. If you want your existence at the top in this digital market, you have to be aware of the disadvantages of PPC. It will help you to make your decision skillfully. Let's have a look at the disadvantages of PPC-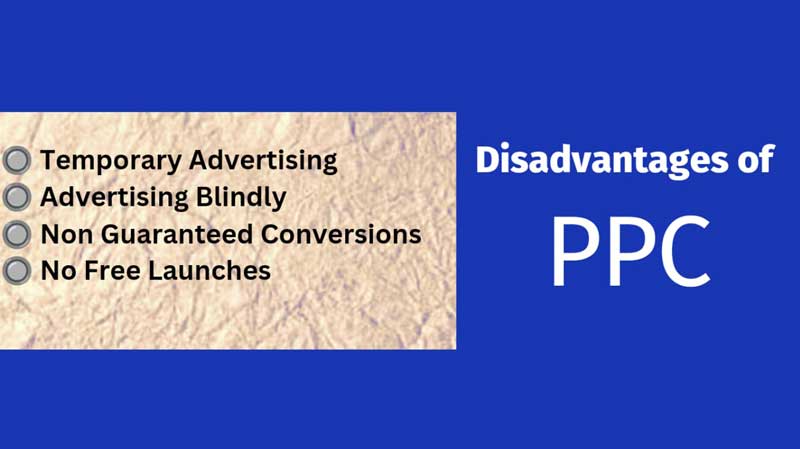 1. Temporary Advertising
When you have finished your full budget, your campaign will be soon over. Your ads will no longer be seen. Other types of posts, like guest posts, could remain on the website at no additional cost.
Your sales will almost fade when you are not running a PPC campaign. Your business income will drop a lot if you have a small budget. Then it will be tough for you to increase your sales through PPC.
2. Advertising Blindly
When an ad is displayed in front of your customers, they will not click on your ads as much as you expect. Many Internet users have learned to use browser extensions to hide them. At least 27% use ad blockers and this number is increasing. Sometimes, it isn't easy to reach some potential customers.
You can improve your product quality or make your ads eye-catching. This will be your plus point. But, if you want to have a good business. You have to make your business technique different from others.
3. Non-Guaranteed Conversions
As you might imagine, you have planned a perfect PPC campaign. You also have a fantastic, well-designed website. Also, you have better improvements. But, without having a reasonable budget. The PPC campaign still presents a risk. You can lose a lot of money. Without being sure of the occurrence, your viewers turn into regular customers.
There are many reasons behind the risk. Maybe the ads are not so attractive to the viewers. Maybe there is a problem with your products, or others may go wrong. PPC campaigns could lose your money. So first you have to decide with your intelligence.
4. No Free Launches
There might be concerns for digital marketers if they make any mistakes. What would be the effect of it on their online business? Also, the new marketers have a low budget. But here, they can't have any free launches.
You have to spend money on a PPC campaign. Otherwise, you can't improve your website ads. There are many competitors in digital marketing. You have to decide by thinking about every single risk. Marketing is challenging for those. Who doesn't have any idea about PPC campaigns? Here you have to spend money on risk to earn money.
PPC is only a method to make the procedure easy. But the truth is nothing is accessible here, no free launches. If your budget is over, PPC campaigns will not help you to boost your ads.
Conclusion
As digital marketers, you should have a good concept of the advantages and disadvantages of PPC. We have presented the best ideas here. You can determine your PPC campaign through our article. It will help you to make improvements in digital marketing. Everything has a good or bad side. But as a marketer, you must pick the best for your progress.
There are lots of marketers in this digital marketing. The one thing that will make you different is your intelligence and your decision. Make the proper use of your intellect.
You may also read: What is an Active Buyer Vs a Passive Buyer?