Digital marketing includes email, social media, and web-based advertising, as well as text and multimedia messages as a marketing channel. If a marketing campaign involves digital communication, it's digital marketing. Digital marketing for business brokers is an important topic to talk about.
But the question is, how can a business broker do digital marketing?
So, here is the answer: business brokers can upgrade them with digital marketing knowledge as it will be beneficial for them to work more speedily. Or, they can hire some employees for this section or recruit any digital marketing agency to work for them.
Why Should Brokers Care About Digital Marketing?
In today's era, digital marketing is essential for any business. This rule is also applicable for brokers in the real estate and mortgage industries. During the Corona Pandemic, it has been observed that it is challenging for brokers to meet clients in person. Nowadays, clients are more comfortable using online mediums than meeting in person. This change requires brokers to change their perspectives and mindset.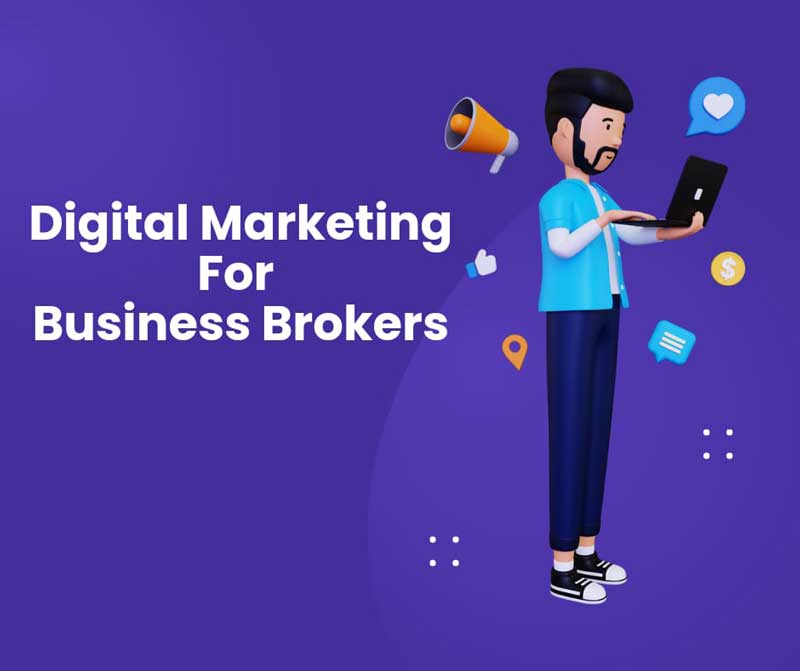 The impact of digital marketing is being noticed in our lifestyle. If you want to expand your business or connect with more potential customers, then digital marketing is the perfect solution. Digital marketing for business brokers is an Investment to create online assets. Using the right strategies, you can reach a wider audience and generate more leads.
Digital Marketing For Business Brokers: 6 Important Tips
Digital marketing for business brokers, particularly in real estate and mortgage industries, is more necessary than any other business. But tackling digital marketing is not easy, so we have some tips to help you move forward in this competitive business arena.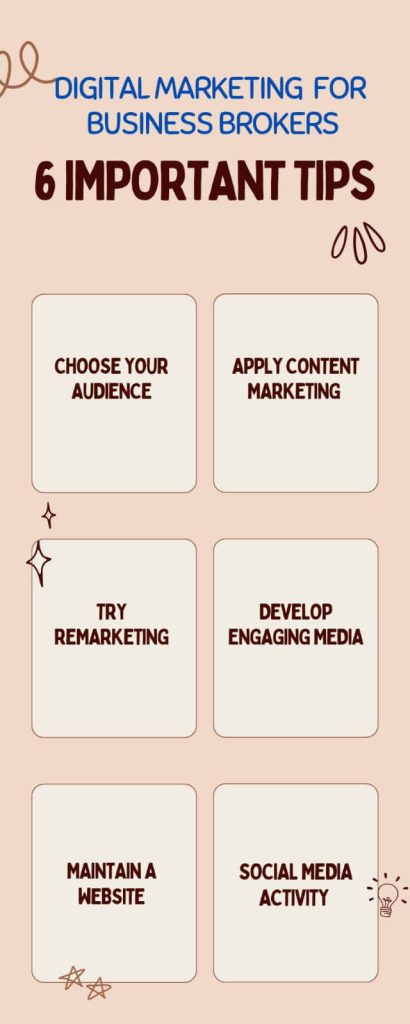 1. Choose Your Audience
Target audiences are a pillar of most businesses influencing decision-making for marketing strategy. Before starting a campaign, you should know who can be your right buyer or whom you are searching for by sending your marketing message. Refinance shopper like negotiation and checking more quotations, and he knows about his works well, so he verifies each of your words.
On the other hand, new home clients want to know the process and are interested in paying for a consultation or referral. These profiles tell about these buyers' needs and expectations of the product and, by this profile matching, can create digital marketing messages which will directly knock the audience and tell about their needs.
2. Apply Content marketing
Content is the powerhouse and fundamental of marketing strategy. The information in the content can grab the target audience's attention. That can increase leads and also can get some referrals. It will present you as an expert, and your audience will know your service. When audiences contact you for your service, you can gather information about these audiences and also can Increase your brand awareness. You should provide unique content, and the audience should feel it's different.
Indirectly you can also get clients by a blog posting on your website about your services, as prospects will understand this is a place for resources. You can also use LinkedIn pulse for posting. That will promote you to your connections. It is one of the most potent ways of content marketing to increase prospects.
3. Try Re-marketing
Business brokers should start with marketing and then re-marketing the same audience as there is a chance of a conversion. It needs time and effort to continue promoting brand awareness and creating authority, and then there is a chance of conversion to earn. The first attempt at brand awareness usually does not bring you transformation. You have to maintain continuity. So it's better to do re-marketing than searching for new prospects.
4. Develop Engaging media
Engaging with media is another tricky way of digital marketing. Brokers need to engage themselves with popular media where their targeted audience spends time. A real estate agent needs to take quality photos and present them in a way that attracts them. It is better to introduce more to them through travel to attract them.
On the other hand, if you are a mortgage broker, you need to create videos that answer various questions related to the industry. While making the video, it should be noted that it should be very informative.
5. Maintain A Website
Nowadays, various information can be presented very quickly through websites such as wixardrahat. In each case, the use of the website is remarkable. Every registered business should have a website. So, you also need a website to show your previous works and sale listings. Digital marketing for business brokers should start with a business website.
Most website traffic is not converted into readers on the first day of visiting websites. Continuing posting can make your brand familiar with them, and then you can do aggressive marketing, and finally, this traffic will start to convert, but it will take time. You have to keep patience.
6. Social media Activity
It's an essential part of digital marketing. Nowadays, most people like to contact the social media profiles of businesses. So, you can create social media profiles on various platforms such as Facebook, Twitter, Instagram, TikTok, and LinkedIn. Your social profiles on Facebook and LinkedIn should be professional, rich and supportive.
For young people on Tik Tok, Instagram is the main priority. Design your campaign on these platforms according to your prospect's primary location and potential importance. Digital marketing for business brokers on social media profiles should include a professional photo and bio, a complete profile.
Conclusion
Finally, these six tips can help you with your business growth. Besides these tips, you should also try email marketing and influencer marketing and partner with other experts. Digital marketing for business brokers can have an immense impact on improving the business.
You may also read: How to Delegate Tasks in Marketing