Indoor vs outdoor advertising: which one should you choose for your business? It's a very tough decision to make for an entrepreneur, businessman or marketer. Read the article to make the decision easier for you.
Advertising is crucial for all types of business as it increases the number of your customers. There were many types of advertising that you can consider to boost your sale. In short, there is no alternative to advertising when it comes to generating more leads in your business. Because in this digital era, it is tough to survive with your business in this highly competitive market without advertising.
Advertising will make your customers aware of your products or services which will help them to know what your brand stands for. It also helps to promote your services to a broad audience. We hope you will get a better conception of indoor vs outdoor advertising from this article.
What is Indoor Advertising?
Indoor advertising is a type of modern advertising where advertising, messages and announcements are published in a closed area. Indoor advertising displays promotional messages and it is generally shown in malls, cafes, restaurants, theaters, supermarkets, restrooms, airports, schools, and clubs.
It is a more cost-effective advertising method where you don't need to pay any wages. Indoor advertising can please viewers and make a difference in the business. Indoor marketing is a superb way of communicating with visitors and motivating them to make sales.
What is Outdoor Advertising?
Outdoor advertising is also known as out-of-home advertising. It reaches customers when they are out of their homes. About 70% of the customers spend most of their time outside their homes. Outdoor advertising can attract the attention of passersby. This advertising is designed to promote your products or services to your target customers outside of their homes.
With outdoor advertising, companies can advertise their services to people in public places or on the road. On a typical day, you will walk through some examples of outdoor advertising.
As time grows, the competition is increasing in the digital market and also in the offline market. Outdoor advertising is a mass market medium. It is more effective for broad messages and support campaigns.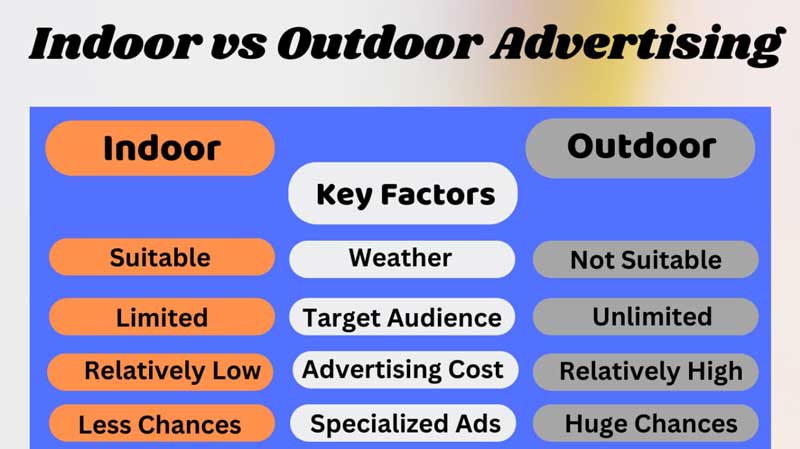 Comparison between Indoor VS Outdoor Advertising
There are some advantages and disadvantages of both indoor and outdoor advertising. It will help you to select the best advertising for your business. Let's have a look at the comparison between Indoor VS Outdoor Advertising.
1. Weather
What if there is bad weather outside? Then you can only reach the customers inside. So in this dire situation, your only choice is indoor advertising. The weather is a crucial factor for indoor vs outdoor advertising comparison.
Before investing, you have to think about this topic. An advertising campaign is more complicated than we think. But if you have the correct advertising plan, your business will grow to its maximum. Weather is essential to notice because you can't produce summer-season products in the winter season.
It will hamper the image of your business. You can have a significant loss from this wrong decision. From a weather perspective, indoor advertisements can promote your business better than outdoor advertisements.
2. Target Audience
You will have limited customers with indoor advertising because most customers remain outside. They have their work and business. You have to advertise your products outdoors if you want more audience. That means you have to do outdoor advertising.
So indoor advertisement can make you a limited audience, but outdoor advertising can make huge customers. The main driving force of your business is your customers. You have to increase your customers day by day. Considering this factor, outdoor advertising has more advantages than indoor advertising.
Before having any harmful effects on your business, make proper advertising decisions. We aren't saying that indoor marketing is not practical. Indoor advertisement is also efficient. But, if you want a successful business within a short time, you must know the difference between indoor and outdoor advertising.
3. Advertising Cost
Both indoor marketing and outdoor marketing are cost-effective. But considering your business and the marketing strategy, you have to select the profitable option for you. Suppose you are investing in indoor and outdoor advertising at the exact cost. But it would help if you had precise decisions, so you can choose the favorable option to profit in your business.
Remember, your intelligence and proper decision is the primary way to your profitability. You have to know about indoor vs outdoor advertising in detail to make a better decision for your business.
4. Specialized Ads
Between indoor vs outdoor advertising, outdoor advertising targets more audiences than indoor advertising. You can add some degree of personalization for your accessibility. But in indoor advertising, you can't. Outdoor advertising can give you more experience, which indoor advertisements can't.
In outdoor advertising, you can contact your customers and know their demands so that you can customize your products or services according to their needs. It will improve your business growth so fastly.
Indoor vs outdoor advertising: Deciding which one is More Suitable for your business
Your chosen method of advertising will depend on your business. It's not either/or, so you can blend the two ways appropriately. As your company grows, your needs may change. Your initial choice can be something other than your way of advertising forever.
Indoor advertising is better for limited areas of business. You can privately do better in business through indoor advertising. It would help if you made your advertising depending on customers' choices and other essential things. Indoor marketing will give you a private business scope. You can have a few customers' attention from indoor Marketing.
On the other hand, outdoor advertising is ideal for every type of business. It will help you better from indoor advertisements. Here you have unlimited areas. You can advertise endlessly. Here you can get the consumer's needs. You can fulfill all their requirements through outdoor advertising. Customer satisfaction is your inspiration for the next level of business.
Here both types of advertising are fruitful. The choice maker is you. Your decision will make you up in this digital era.
Conclusion
Indoor vs outdoor advertising both are effective for every business improvement and generate more leads. You can choose both for your business advancements. We hope you will have a proper idea from our indoor vs. outdoor advertising article.
You may also read: How Does An Advertiser Benefit from Using Google Trends