Account based marketing (ABM) vs traditional marketing, which way should you go? Well, we think that is the wrong question to ask. The two strategies complement each other rather well. You may wonder- but many marketers think that marketing is just a numbers game: the more you spend, the more contacts you get. The more connections you have, the more money you make.
Traditional marketing is a form of marketing that uses offline media to reach an audience. There are many practical examples of traditional marketing. Whether account based marketing is a strategy in which a brand targets valuable accounts and provides each of them with a personalized experience.
This article will help to learn about these 2 forms of marketing those are account based marketing (ABM) vs traditional marketing and assist you in choosing which will be best for your business.
What is Accounting Based Marketing (ABM)?
Account based marketing is a popular strategy of marketing that concentrates resources on a set of target accounts within a market. This marketing strategy uses personalized campaigns designed to engage each account. It helps ensure smooth communication with high-value target accounts, personalize buyer journeys, deliver a customized message, and drive ROI and customer loyalty.
Account based marketing is gaining popularity among B2B companies since it helps establish an excellent reputation and strong relationship with customers and boosts revenue. Although there are many great marketing strategies, companies still choose account based marketing.
What is Traditional Marketing?
Traditional marketing is fulfilling the target audience's needs using offline channels and making a profit. This marketing technique refers to the satisfaction of needs and wants for consumers via those marketing channels that existed before individuals had access to today's digital platforms.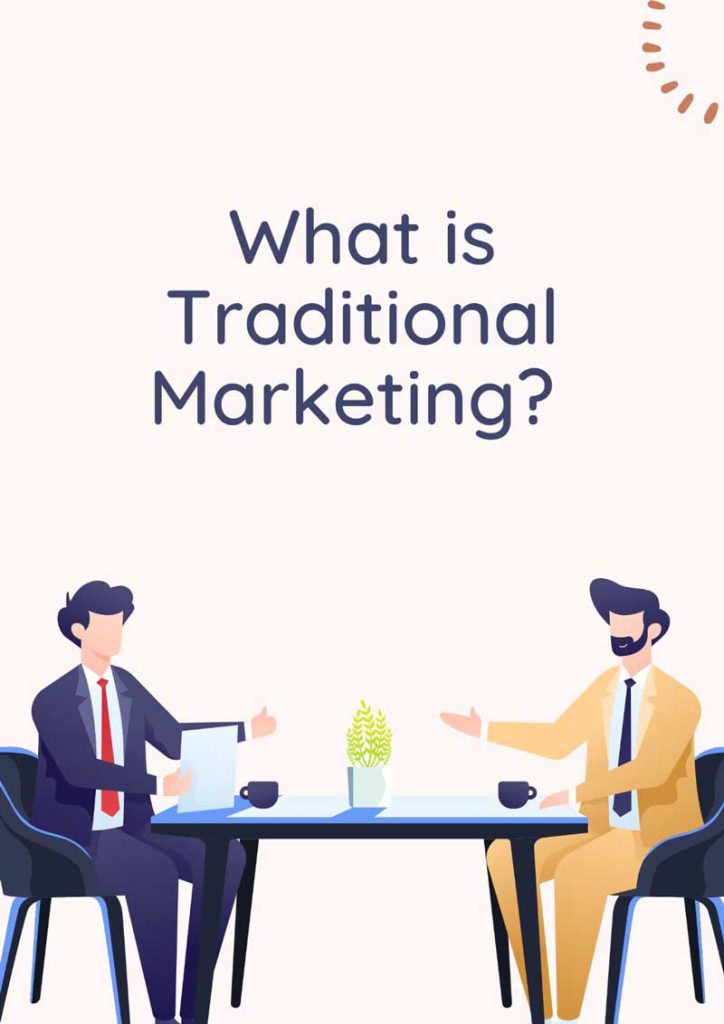 Traditional marketing mixes with a wide range of advertising and marketing strategies. It was and is the most well-known marketing type that customers see daily. It also helps create credibility and build relations among the parties through physical contact, question-answering, suggestion, etc. This strategy is still coping with the modern form of business.
Account Based Marketing (ABM) vs Traditional Marketing: 5 Differences
At present, there are many types of marketing strategies. How would you know what is best for you? Your successful marketing strategy depends on your customers' demand. In this article, we promise to provide you with comparative information on ABM and Traditional Marketing. So, here are 5 differences between account based marketing (ABM) vs traditional marketing.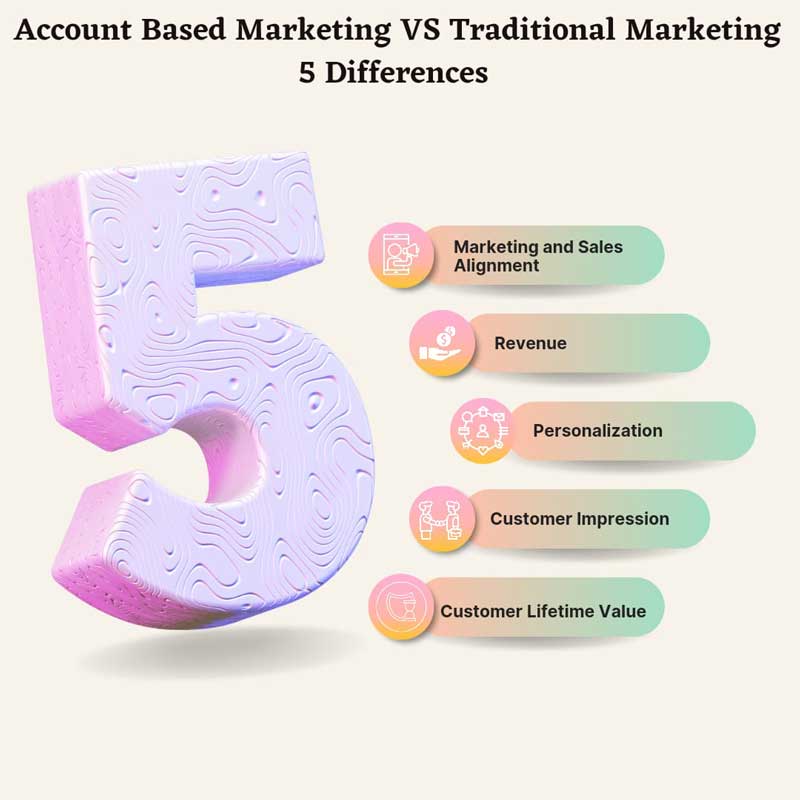 1. Marketing and Sales Alignment
Marketing and sales alignment means that you are consistent in the messaging. The customer experience across the entire sales process and the buyer's journey should be connected so that both teams are addressing the same problems they can solve for a target account. Firstly, your company's marketing campaigns should not be about taking low-cost strategies if your sales team has been delivering "speed to market" as a value proposition to a potential high-value customer in the market.
Traditional marketing sales and alignment are also effective. Your organization's demands will provide your decision.
2. Revenue
The ABM approach adopted, be many or few, would then be designed across those specific accounts with personalized messaging and relevant content. Once the new customer achievement happens, its revenue can be assigned to account based marketing efforts. This attribution is only possible for your business because even before starting the campaign, there can be an agreement between sales and marketing on the list of target customers.
Traditional marketing has a pricing strategy that is independent of online channels. Here you will get less risk than ABM. It's also a very safe and profitable option. Traditional marketing can reach out to more audiences for their revenue. So, it's completely your decision to choose the best one between these strategies.
3. Personalization
Nowadays, it is more difficult to attract customers for any business. In this regard, personalization will give you a super usable option. It can help set brands apart from their competition and catch the eye of target prospects. Personalization will provide you with a better impression, and you can find personalization in ABM. Account based marketing can personalize your customers and target possible interpretations.
On the other hand, traditional marketing has little scope for personalization. Because of Its offline marketing, it can't target important accounts or customers. This is a limitation of Traditional Marketing.
4. Customer Impression
Traditional marketing has a lower customer impression than account based marketing. So, it often satisfies the customer within the buyer journey.
In Accounting Based Marketing, a lot of investments are made by targeting personal interactions. It makes a good customer impression. In this strategy, the customers will be satisfied, and you can plan for future sales. This is the result of ABM customer impressions. Mainly, your customer is the primary source of your revenue. If you want a good profit and go ahead in the competition with other marketers, then ABM can give you the right decision.
Traditional marketing is an excellent way of attracting maximum customers. However, the large number of customers can result in unqualified leads. Most of the customers last till the first purchase is completed.
With the help of ABM, you can make your most trusted list of customers and build long-term relations with your end-users. The primary stages will require lots of investments but rest assured these resources can reward you in the long run.
Conclusion
Selecting the best marketing strategy may sound complicated. But it's not impossible. Both approaches have rightful benefits. Your success will depend on how you use the method to your advantage. Also, it's different for some organizations.
Account based marketing (ABM) vs traditional marketing: here, we have introduced two different marketing strategies. Both are the best in their sector. As It's the digital age, online marketing is getting more popular than offline marketing.
So, it's all your decision on your wanting profit. Remember, one right decision will change your position. Hope this article will be helpful for you and your business in taking the right Marketing strategy.
You may also read: Digital Marketing for Business Brokers