Article Forge Vs Jarvis (Jasper), if you are asked to choose one of the AI tools, which one will you use?
There are hundreds and hundreds of AI writing tools that claim themselves the best, but which one to choose? Several factors help to select which writing tool will help you. Which AI article writing tool is best, depending on your needs and goals?
Article Forge Vs Jarvis (Jasper), are the two most popular article generators we will compare today. The competition is getting tougher and more challenging in AI writing tools. These two platforms have made tremendous efforts to provide us with quality article generators.
Do you need clarification about the Article Forge vs Jarvis: which one to choose? Then this article is for you to smooth your article writing experience.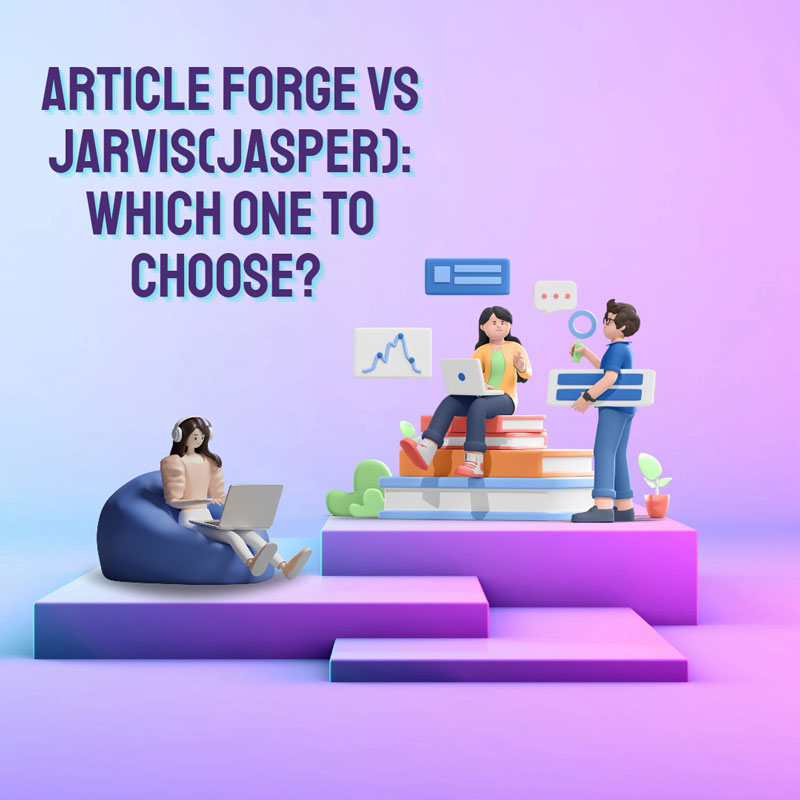 What are Article Forge and Jarvis (Jasper)?
Article Forge
Article Forge is an AI content generator tool. It uses artificial intelligence to scan millions of web pages on a given topic, analyze the content, and rewrite it in its language. While the output is not 100% perfect, it's effortless to use and Very quick at generating the first draft for your editor to work.
Article Forge can create an article in 60 seconds and is also time-saving. It can create SEO-friendly and Google algorithm-related content. You can use it to post to any WordPress website automatically.
Jarvis
Jarvis (Currently known as Jasper) is an AI writing assistant that will help you improve your content creation and generate high-quality content for your article writing. This Software can offer a lot of things for content creators. This tool can generate long-form content which is SEO optimized for your business or company.
Jarvis can write unique, informative, and, most importantly, engaging articles. It can write different articles like product descriptions, blog posts, marketing content, and SEO articles. You can find several benefits from Jarvis (jasper) software.
Article Forge vs Jarvis (jasper): 5 Main Differences
Content creation can be costly and time-consuming, but with Article Forge and Jarvis, you will save time and money. From the above, it is evident that each article generator boasts a wide range of impressive features.
In the end, you must know which one you should use for your work. As we will compare the Article Forge vs jasper (Jarvis), we will show you the difference so you can make the right choice.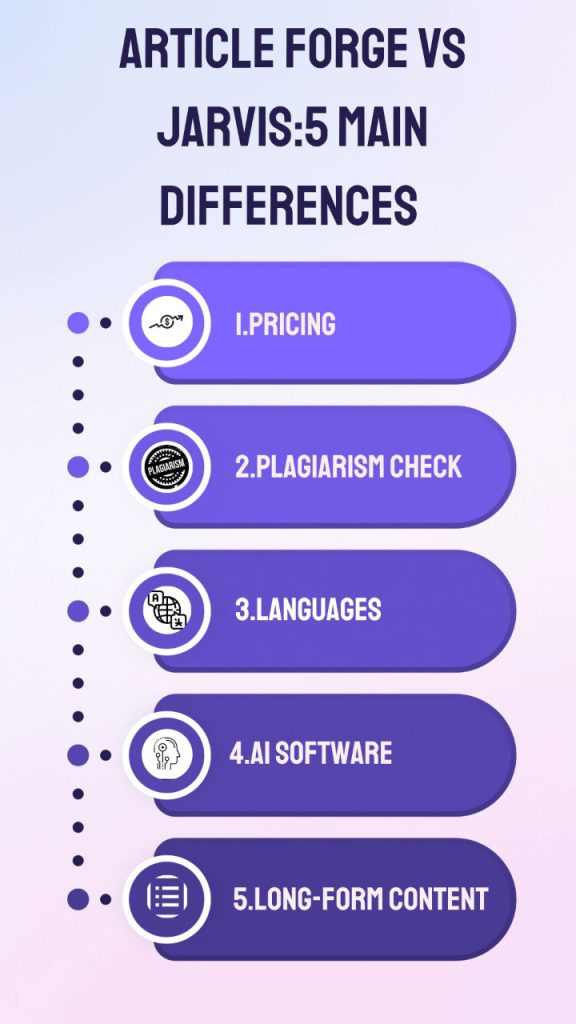 Here are 5 main differences between Article forge vs Jarvis.
1. Pricing
Both of these article generators differ in this area as well. First, let's look at Article Forge's pricing.
You can test out the basic features of the Software free for five days. Try out this artificial intelligence for free to see what it can do for you. Its monthly plan costs $57. Here you will get a high-quality, plagiarism-free article generated in 60 seconds. The yearly plan will cost $27. It includes all the features. The difference is It's a bit cheaper and billed annually.
Jarvis's starter monthly plan costs $29. Here you will get 50+ templates and 25 different languages with the help of chat support. The Pro plan will cost $109. Here you will get unlimited words and all the features of the starter plan. The copywriter community is also available. The boss mode will cost $119 with all new super features.
2. Plagiarism Check
When it comes to comparing Article Forge Vs Jarvis (Jasper), plagiarism is a crucial factor. The plagiarism checker in Jarvis is built into the Software, but Article Forge does not have one. Both content generators will provide you with original, plagiarism-free articles. These two platforms share this similarity.
Each creates original and unique content that can't be found anywhere else. Of course, you can always run articles generated using AI writing tools through a plagiarism detector. Plagiarism is significant for content creation. Some devices have perfect plagiarism, and some do not.
3. Languages
The more languages that an AI supports, the better result you will get. This makes it essential to choose the one that supports the most languages.
Jarvis (jasper) sounds like an excellent tool for creating international or foreign-language content.
You might not need to prioritize the number of languages supported if you aren't heavily invested in cross-border usage. There are many languages you can write in. As English is an international language, everybody prefers it. So languages can only make a slight difference for content creators.
4. AI Software
Their AI software determines the quality of the articles generated by these platforms. They recently released a new version of their AI, starting with Article Forge 2.5. It can produce articles that are free of plagiarism and errors. Article Forge 2.5 can search within its database and generates reports.
On the other hand, Jarvis uses GPT-3 learning technology, a more sophisticated language model that can create articles that seem as if a human wrote them. This creates a positive impact on content writers and SEO experts to use it.
5. Long-Form Content
Article Forge also excels in this area. It only can generate articles of 750 words with article forge. The maximum is 1000 words.
However, Jarvis has a specific feature to help you create long articles. Jarvis offers a long-form assistant that enables you to compose articles quickly and efficiently.
Marketers understand how important long-form content is. A long post converts better than a short one because it gives you the space to explain everything to your readers.
Conclusion
Between Article Forge vs Jarvis, Jarvis can be your best option if you want functionality and quality features from an article generator. Article forge is nearly as expensive as the jasper starter plan when comparing the monthly rates.
Article forge can't compete with Jarvis pro and boss mode based on the feature they offer. Moreover, Jarvis can create content in more languages and faster. As a jasper user, you can network and interact with other content creators. Article forge can't offer you these luxuries.
On the other hand, Article Forge does offer a 5- day free trial that can be enough for you to understand how effective the Software is.
So, we hope this article on Article Forge Vs Jarvis (Jasper) helps you a lot in understanding the differences between them and choosing the best suitable one for you.
You may also read: How To Use GIFs In Google Display Ads