Should you use Digital Marketing Strategies for Edtech?
There are many scopes for learning, but parents fear that incorporating technology into the educational sector harms the child's growth. However, Edtech will take over the role of teachers for children to develop social skills. In recent years, the digital marketing strategy for Edtech has been excellent in the education sector.
If you are in the Edtech industry, you can expect stiff competition from several learning platforms. Therefore, you must use the right digital marketing strategies to beat competitors and make your brand visible.
Keep reading to learn more about digital marketing strategy for Edtech.
What is Edtech Marketing?
Edtech marketing combines tools, strategies, and methods to analyze the target market and the services that a school offers to the needs and expectations of the target audience. Edtech's marketing innovation aims to improve learners' development by combining computer-based training, mobile learning, and online teaching. It also seeks to promote the school's value and turn it into a brand.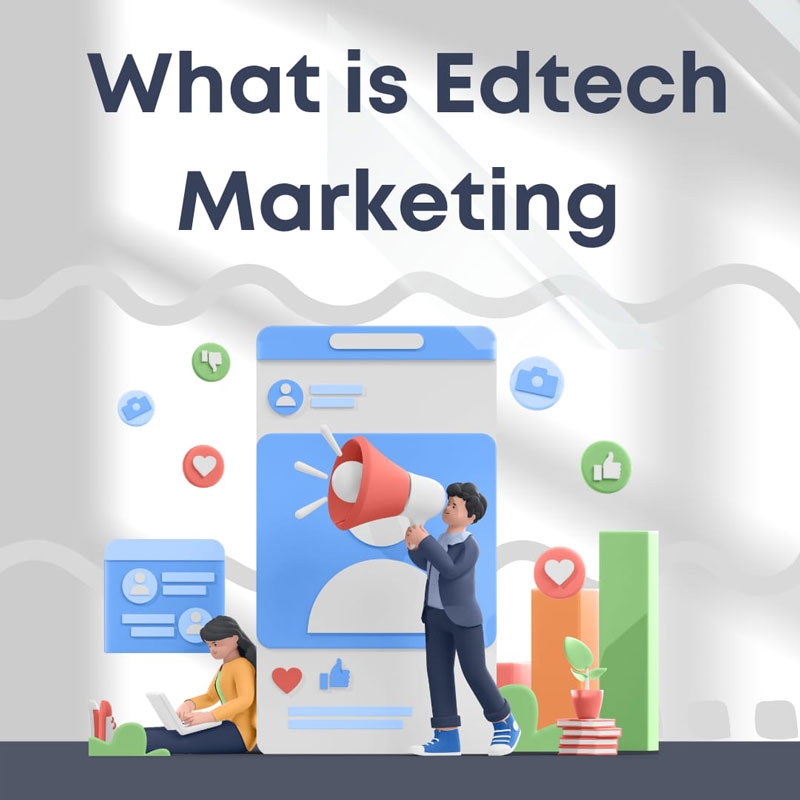 Learning institutions need a good online image as people look for more information about a brand online before engaging with them.
Why should Edtech Companies invest in Digital Marketing?
A traditional offline marketing strategy could harm your business in this internet age. In this case, Digital marketing helps your Edtech company to make an extensive audience base. It will help you to build your brand and promote its services. Also, it is more affordable than offline marketing. Additionally, online platforms allow you to personalize the content given out to consumers.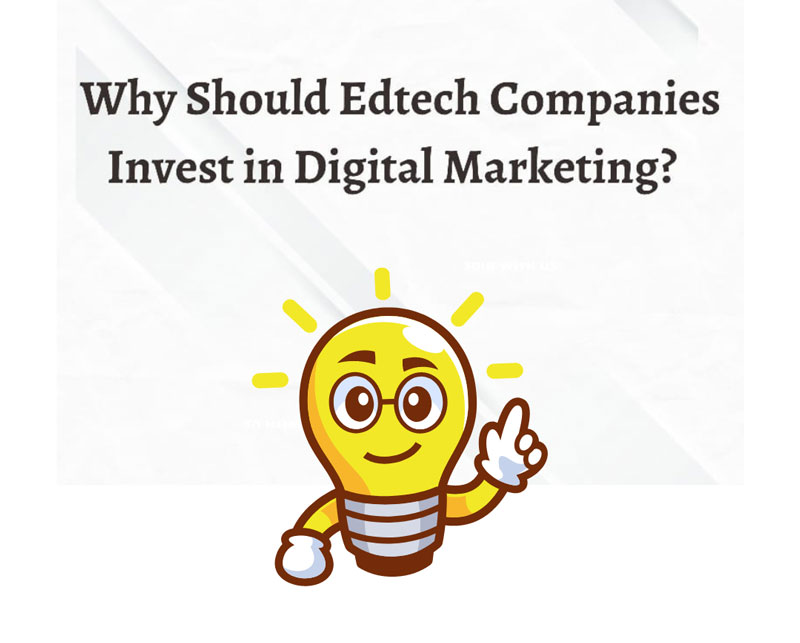 Informing users and the target market about products and services is a company's biggest challenge. Edtech companies are not apart from this. A good digital marketing strategy for Edtech can be the best solution for them.
10 proven digital marketing strategies for Edtech
Nowadays, educational institutions and enterprises are considering digital marketing strategies for Edtech to remain competitive. Here are 10 proven digital marketing strategies for Edtech.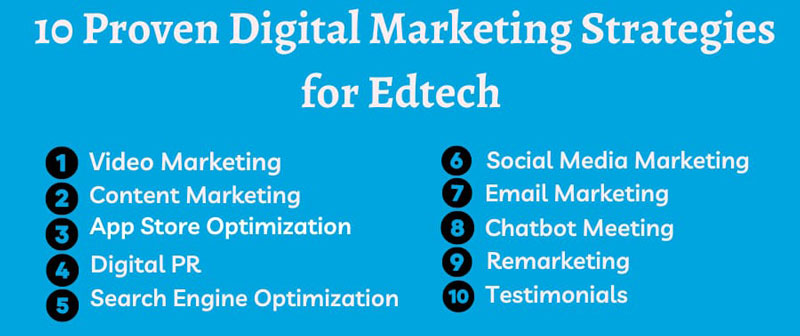 1. Video Marketing
Do you know that videos account for the most significant percentage of online traffic? Video marketing is the most effective Edtech digital marketing strategy to target the audience on how their Platform works.
Using a high-quality video to introduce your Platform and show how it works will help your audience identify with it. Streaming live videos on your social media is another way of getting your target.
Remember, for video marketing; you should ensure that it is professionally designed.
2. Content Marketing
When you publish content or materials that interest your target audience, you will encourage them to visit your website regularly, which will help your ranking in search engine result pages.
However, writing any content will not give you followers on your website. When writing blogs, e-books, and articles, you should optimize your content and use the right keywords. Your content also should be entertaining, valuable, and educational.
3. App store optimization
Educational platforms should be straightforward to access. If you are a startup, ensure that your content is readily available to your target audiences. If you have already launched and developed the Edtech app in the play store, you should ensure that the app is optimized.
Optimization will help your app to get recommended by the store platforms whenever a user searches for any keywords or related business.
4. Digital PR
The success of any education-related business is how credible it is. One of the best digital marketing strategies for Edtech is through guest posts. Getting your article published on another reputable or even getting a mention from a higher rating influencer can help to build trust with your audience. This is even more necessary for a startup.
5. Search Engine Optimization
Search engine optimization (SEO) is another best way to increase the quantity of traffic on your website. You will get a higher ranking in your business category by optimizing your platform for search engines,
As long as your Platform keeps ranking in SERPs, you will gain traffic and not spend any money on ads. You need to hire an SEO expert and ensure that your website fulfills all SEO requirements to get the best from this strategy.
6 Social Media Marketing
Facebook, Instagram, Twitter, Linkedin etc have proved to be a gold mine for marketers. These media are one of the best platforms for advertisement With billions of active users.
An effective social media marketing strategy can help you reach them right from your profile. Stay active, answer questions and comments, and engage your audience with various posts.
7. Email Marketing
Edtech companies can send regular marketing emails and promotional offers to generate revenue for the business.
Several email marketing tools are available; you can use them to take your business to the next level. With good email marketing, you can complete your business goals. You can send the correct mail to the right clients through email marketing.
8. Chatbot Meeting
One of the best ways to interact with your website viewers and collect their details is through chatbots. It contains Info faster and also more engaging. Edtech platforms that include chatbots on their homepage help students, parents, and other visitors get quick answers to their questions.
9. Remarketing
Remarketing ads are more cost-effective than typical ad campaigns and that helps to grow your business successfully. You can get a high ranking. Therefore, installing remarketing pixels correctly on your social media platforms, Collecting visitors' data, and retargeting them with suitable ads.
10. Testimonials
Edtech companies can include testimonial videos in their marketing apart from having a good marketing video or live video streaming. You can ask students and parents to record a short video about their experience with your brand.
Posting these testimonials on your social media channels and websites will enhance your followers. Using them on your landing pages would be best, Where they can act as proof.
Conclusion
According to a report by Google, online education platforms have become a vital source of learning for people between 21 to 50 years. As more people continuously join these platforms, they become the primary source of education. So, Edtech companies should create a more extensive audience base. Hope, any of the above digital marketing strategies for Edtech will be workable for you.
You may also read: Why Lawyers Hate Marketing Agencies