Omnichannel marketing in Edtech is an excellent way of creating a better customer experience. You can gain more data about your customers and interact across Your platforms. 
Customers in this day and age are massively different from twenty years ago. They are incredibly technology-dependent, using multichannel platforms to browse and shop online. The average customer expects regular interactions across all channels, and one way to achieve this is by using an effective omnichannel marketing strategy. 
Today's customers want personalization and shift through irrelevant products and offers. They also need more time. Customization gives customers what they need in a shorter amount of time, the sweet spot for increasing customer engagement. So, here we will talk about omnichannel marketing for Edtech. Let's start.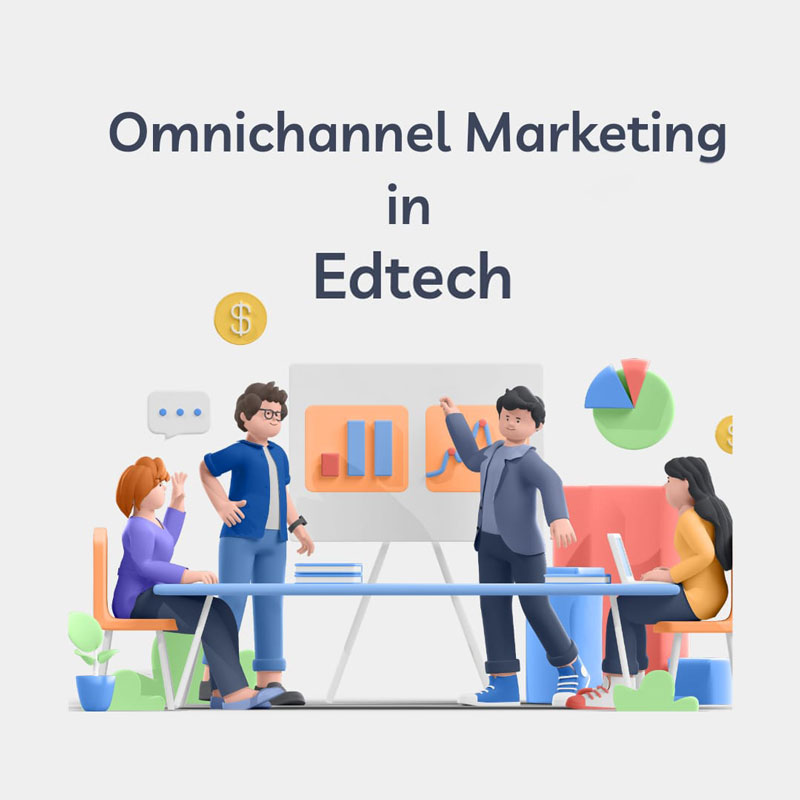 What is Omnichannel marketing?
Omnichannel marketing creates a non-stop shopping experience for your customers, no matter what channel they engage with your brand. Whether it's your website, app, or social media channels, the background needs to be personalized and positive for the customers.
Nowadays, organizations use multiple different channels for customers. A report shows that the average consumer has ten digital devices and monthly they shop online at least once. An omnichannel customer experience is a must if you want a successful business. When you are trying to maintain a good relationship with your potential and actual customers, you must meet them where they are, on the device and channels they are using.
Why should Edtech Companies invest in Omnichannel marketing?
Entering the Edtech sector is easy, but sustaining there is challenging as the market is crowded. Here you will meet a vast number of competitors. So, to stay at the top, you must apply an exceptional marketing strategy. This could be the Edtech Omnichannel platform. This platform will let you create new customers regularly and engage with them effectively.
Edtech companies should invest in Omnichannel marketing. Here they will get high customer retention and loyalty. Omnichannel marketing gives retailers a chance to achieve more engagement, grow sales as well as traffic, and also integrate digital touchpoints. An Edtech omnichannel platform improves the customer experience and provides more channels for customer purchases, whether on the mobile, web or in stores. 
How To Use Omnichannel Marketing in Edtech? 
The growing number of available marketing channels has made the customer journey complicated. Only omnichannel marketing can ensure smooth communication across channels and follow up on the issues registered in the CRM. Starting Edtech omnichannel marketing is not as easy as it seems. But taking some right steps at the start will help you to get the desired result as soon as possible.
Here are 5 steps for using Omnichannel marketing in Edtech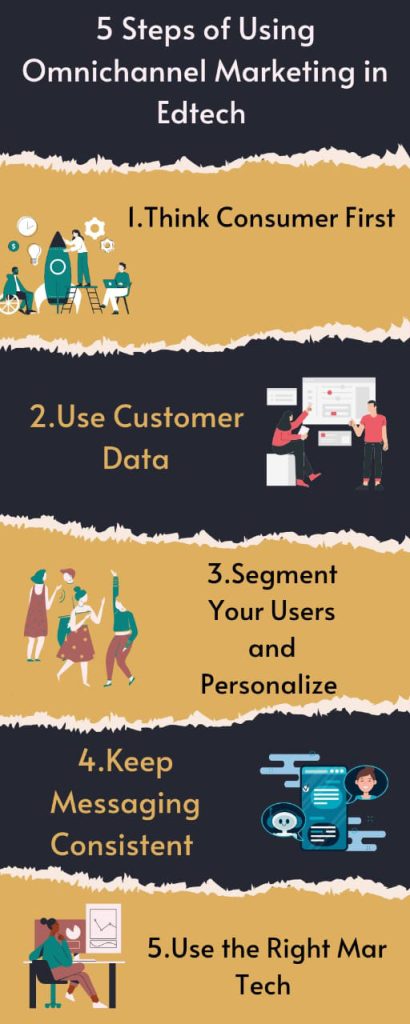 1. Think Consumer First
A significant difference that separates omnichannel from other channels is the fact that omnichannel prioritizes the customer. The first step to using omnichannel marketing in Edtech is achieved by first valuing the customer journey. Your customer's behavior is the best weapon to improve your business.
Look at every touchpoint a person includes before they become your customer. Do these touchpoints provide an everyday customer experience? If not, you will need to gather the necessary steps to make this change.
2. Use Customer Data
To win their engagement, you must best use customer information of a market where consumers are option-rich and time-poor. It would help if you delivered something relevant. And if your business is already driving sales, chances are you have what you need to make this happen: customer data.
You can create content according to your customer's interests by having customer data. For example, instead of sending email campaigns, you can use your customer's data to create campaigns that offer promotions on items.
3. Segment Your Users and Personalize 
Successful omnichannel marketing is 100% dependent on 1:1 personalization. Individualized messages can make your customers feel appreciated and grow long-lasting loyalty.
Before creating personalized marketing campaigns, you need to segment your customers based on the data points such as:
Past purchase
Average order value
Loyalty status
Buyer personality
By doing this, you will build a closer understanding with your customer. And, good bonding with customers is appreciated for business growth.
4. Keep Messaging Consistent 
While engaging with customers with multiple channels will increase brand exposure. The messaging you are engaging with them needs to be regular. Otherwise, you will be at risk of delivering a disconnected brand experience. 
If you haven't already, you keep messaging regularly. You will improve brand exposure properly in front of an internal and external audience. Also, customers will be kept in touch by your regular response.
5. Use the Right Mar Tech
Once you have identified your customers, you must specify the tools and solutions you will use to connect with them. This is a crucial and tough step. However, the following methods will help you to cope with the situation.
Customer Relationship Management (CRM)
Marketing automation tools
Data analytics tools
Social media management tools
Pros And Cons Of Omnichannel Marketing in edtech
Every marketing strategy has pros and cons. Omnichannel marketing in Edtech is not out of them. Let's look at some of its pros and cons :
Omnichannel marketing offers a concrete experience among all the different platforms. Your sales funnel will undoubtedly improve performance by understanding how customers behave across. Omnichannel marketing in Edtech can increase your instant revenue growth. You will also have better customer insight. 
Omnichannel marketing relies on open communication. Open communication is suitable for Edtech, but it's also complicated. If different systems don't talk to each other, the omnichannel strategy won't work. Creating open communication is a vital plan. But working out might be stressful.
Conclusion
Edtech is here to stay. You can use it to support all kinds of students. Students and adults are constantly looking to upskill. With so much demand, it is essential to create a support strategy.
Here omnichannel marketing will help to improve the support strategy a lot. Without any support strategy, it will be a risk for you. Because Edtech marketing is very competitive. Only the perfect marketing strategy will be suitable here.
Hence Edtech companies need omnichannel marketing. So hope that now you have a clear concept of omnichannel marketing in Edtech. 
You may also read: 10 Proven Digital Marketing Strategies for Edtech